Leonard Cheshire
We support individuals to live, learn and work as independently as they choose, whatever their ability. Led by people with experience of disability, we are at the heart of local life — opening doors to opportunity, choice and support in communities around the globe.
Our culture
Our employees say many things about why they love working with us, and the jobs they do. However, some things are said more often than others. These are the things that really show how we work, why we work and the difference we make. This is what you can expect to experience if you were to join our team!
Working with a great team
We have great people who love working together to deliver excellent work. Whether at a local service, in our international team, or in our support functions, what we all value is working within a great team. We support, encourage and inspire each other to make a difference for the people we support.
Making a difference
We offer employees the opportunity to make a difference to society and to do meaningful work on a daily basis. We believe disabled people should have the freedom to live their lives the way they choose and every day we support this to happen. This is why we work at Leonard Cheshire and we are proud of the difference we make.
Creating an environment of engagement
We are building a culture where each employee has a voice. We have rolled out a company-wide internal Facebook site, Workplace, on which employees can express opinions and share views. We also use other methods and forums to ensure that all employees have a chance to provide their insights, at a team and/or broader basis.
Diversity and inclusivity
Our approach
We are committed to building a diverse and inclusive workplace for our employees. Our diversity initiatives and strategies are designed to attract, develop and advance employees regardless of their race, sexual orientation, religion, age, gender, disability status or any other dimension of diversity.
Our distinctive approach to diversity is based on a belief that we each have a personal accountability for success in this area. We provide our people with training and tools to help increase their awareness and understanding of differences and why they matter, so their actions can contribute to our inclusive workplace culture.
Disability confident leader
We are an accredited Level 3 Disability Confident Leader. Disability Confident is a government campaign that works with employers to remove barriers, increase understanding and ensure that disabled people have the opportunities to fulfil their potential and realise their aspirations.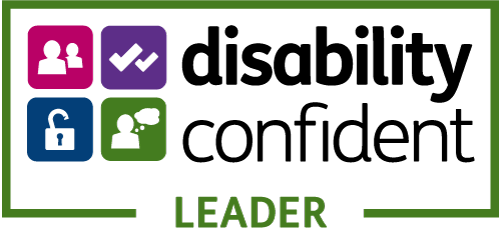 Inclusive employer
We are also a member of Inclusive Employers, who support us to build an inclusive workplace.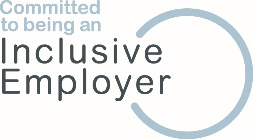 Guaranteed interview scheme
We guarantee to interview anyone with a disability whose application meets the minimum criteria for the post. By 'minimum criteria' we mean that you must provide us with evidence in your application which demonstrates that you generally meet the level of competence required for each competence, as well as meeting any of the qualifications, skills or experience defined as essential. Leonard Cheshire is committed to the employment and career development of disabled people. To show this, we use the Disability Confident Employer Symbol awarded by Department of Work and Pensions. 
What do we mean by disability?
The Disability Discrimination Act 1995 defines a disabled person as someone who has a physical or mental impairment, which has a substantial and adverse long-term effect on his or her ability to carry out normal day-to-day activities.
How do I apply?
If you want to apply under the Guaranteed Interview Scheme simply tick yes in the personal details section when making your application and asked if you wish to apply under the guaranteed interview scheme. We will try to provide access, equipment or other practical support to ensure that if you have a disability you can compete on equal terms with non-disabled people. If you are invited to interview, you will be asked what reasonable adjustments you will require, if any, to enable you to attend an interview.
Declaration
In signing up to this scheme you are confirming that you consider yourself to have a disability as defined above.
Employee health and well-being
We are committed to providing an environment which is healthy, safe and supportive of our employees' well-being needs.
Employee assistance programme
We offer employees an employee assistance programme that provides professional counselling for any issue, either face-to-face, by telephone or online via e-counselling. Employees also have access to financial and legal advice from qualified consultants, medical advice from registered nurses, and a wide range of wellbeing tools through the Health Gateway.
Health and Safety
We have a dedicated health, safety and environmental department that ensures we provide a healthy and safe environment to our employees, clients and anyone else included in our activities.
Flexible working
Flexible working is more than a policy – it's a culture and commitment to recognise how we can support our team members to maintain a good balance between their personal and professional lives. This also contributes positively to employee well-being.
Flexible working can help employees meet their obligations and life responsibilities such as childcare arrangements and caring responsibilities, or can be purely a lifestyle choice.
Regardless of our employees' motivation, we are committed to exploring flexible working with our employees, providing support in any way we can.